All You Need to Know About Monet's Garden in Giverny
Contents
What is Monet's Garden in Giverny?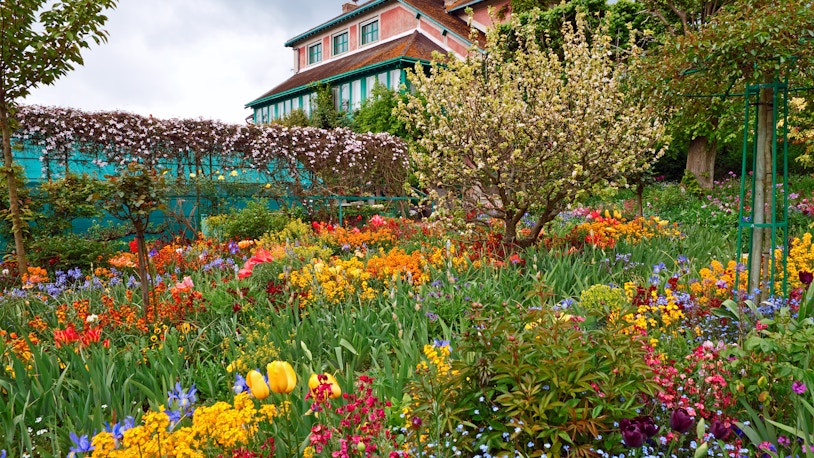 Nature and art intertwine in a symphony of colors at Claude Monet's Garden in Giverny. Discover meticulously curated flowerbeds bursting with vibrant blooms. Cross the iconic Japanese bridge, surrounded by lush greenery and serene water lilies that inspired the French artist. Inside the house, explore Monet's private studio and learn all that you can about the founder of Impressionist paintings. With over 100 varieties of flowers and 3 areas to explore, the gardens are a treat to the senses, especially if you love nature or are an art enthusiast. 
Fun Fact: Did you know that Monet had a passion for gardening and was known to spend countless hours tending to his beloved plants? He carefully curated every aspect of the garden, selecting each flower for its color, texture, and ability to harmonize with the overall composition.
Quick Facts about Monet's Garden in Giverny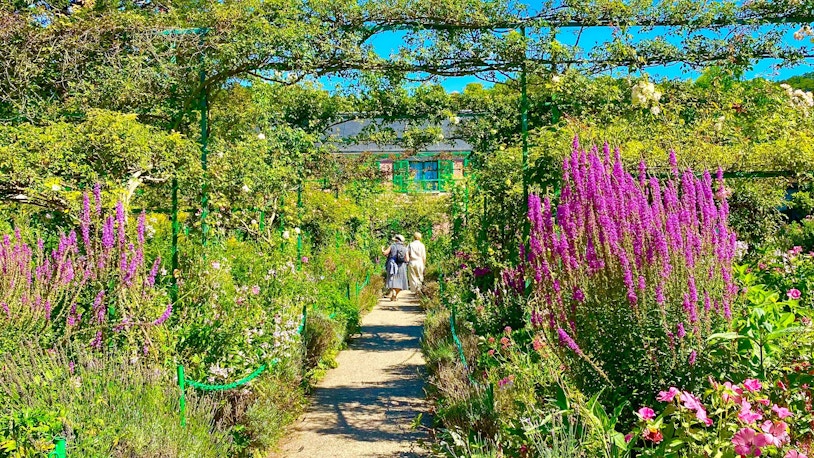 Official name: Claude Monet's Garden 
Address: 84 Rue Claude Monet, Giverny, France
Date of opening: September 1980
Timings: April 1 to October 31, 9:30 AM to 6 PM 
Number of visitors per year: Over 500,000
Size of the garden: Approximately 2.5 acres
Flower Species: Over 100 flower species including tulips, irises, wisteria, and water lilies
Function: Garden
Why Visit Monet's Garden in Giverny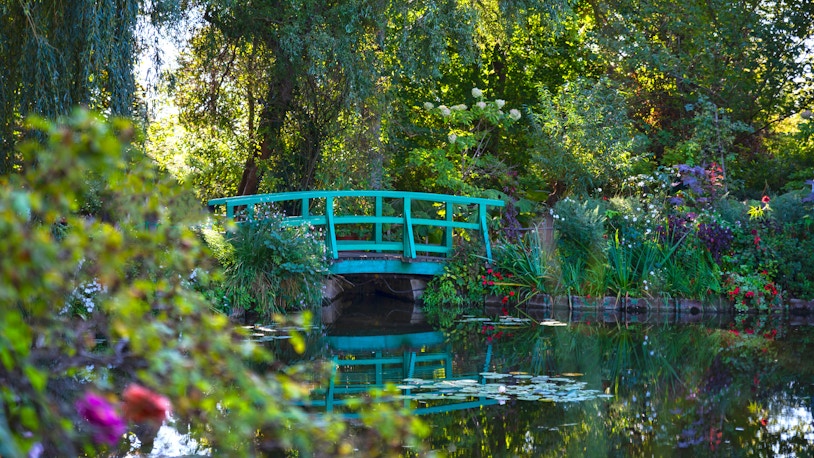 Blossoming Masterpiece: Immerse yourself in a living and breathing masterpiece, where vibrant flowers paint the garden with hues that inspired Monet's iconic paintings.
Water Lily Symphony: Explore Monet's water lily pond, a tranquil oasis that evokes a sense of peace and serenity.
Japanese Bridge Magic: Cross the picturesque Japanese bridge surrounded by wisterias planted by Monet himself. 
Artist's Haven: Explore Claude Monet's house and studio, where he brought his visions to life, surrounded by his treasured collection of Japanese prints. 
Colorful Seasons: Experience the ever-changing beauty of the garden throughout the seasons, from blooming tulips in spring to cascading wisteria in summer.
Enchanting Water Garden: Discover the hidden oasis of the Water Garden, a sanctuary of floating water lilies and delicate reflections that transport you to a dreamlike realm. 
Botanical Treasure Trove: Marvel at the vast variety of flower species, from vibrant tulips to delicate irises, all created by Mother Nature herself. 
Plan Your Visit to Monet's Garden in Giverny
What are the opening hours for Monet's Garden in Giverny?
Where is Monet's Garden Located?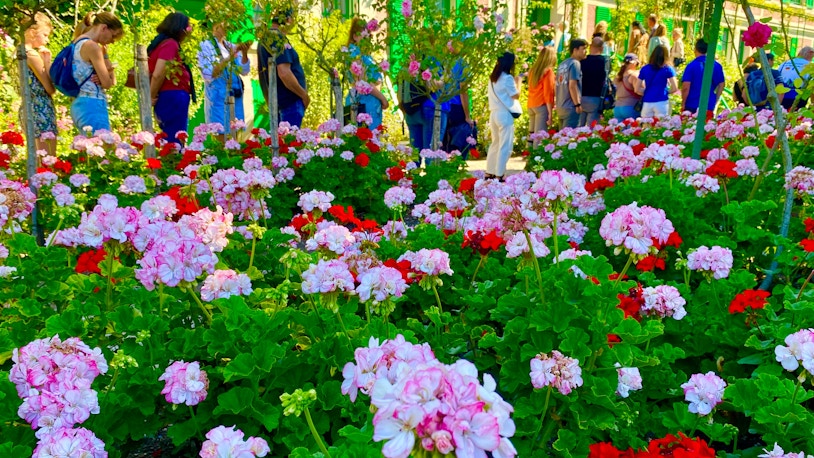 Opening Hours: April 1 to October 31: 9:30 AM to 6 PM 
Last Admission: 5:30 PM. 
Closed: From November 1, 2023, to March 31, 2024
Best Time to Visit: Visiting Monet's Garden in Giverny during the spring and summer months will guarantee an unparalleled view of the garden in full blossom. However, keep in mind that this also collides with the peak season rush. Ensure you arrive as early as possible to enjoy your leisure time. 
Best Time to Visit Monet's Gardens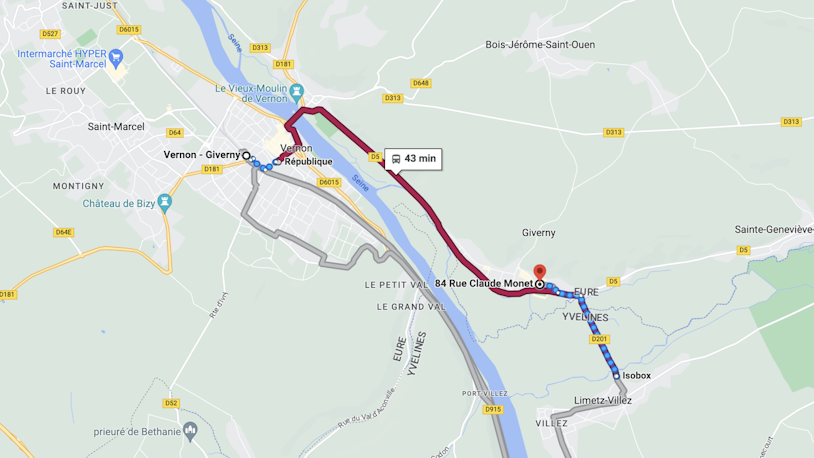 Address: 84 Rue Claude Monet, Giverny, France | Find On Maps
City: Giverny
Nearest Station: Giverny is Vernon-Giverny (4 km)
Monet's Garden is located in the heart of Giverny, just a short walk from the Giverny Museum of Impressionism and the Church of Sainte-Radegonde. You can also venture further to enjoy the scenic Seine Valley.
Get Directions to Monet's Garden in Giverny
Things To Do At Monet's Garden in Giverny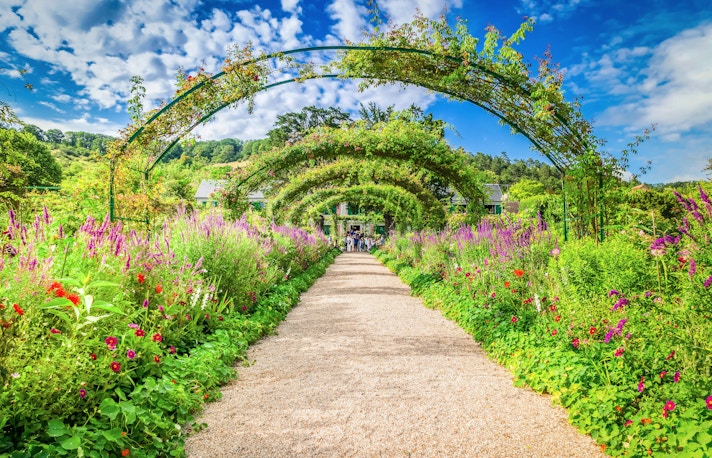 Explore the Clos Normand
Step into the colorful and symmetric tapestry of the Clos Normand, Claude Monet's meticulously designed garden, that spans over 1 hectare. Divided into symmetrical flowerbeds, you'll find everything from the common daisies and poppies to rarer varieties, topped with iron arches, making a perfect aisle.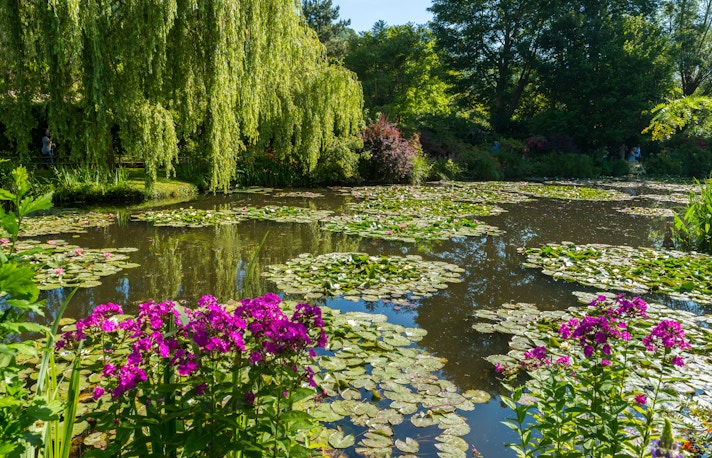 Discover the Water Garden
A haven of tranquility that inspired Monet's iconic Water Lilies series. Wander among the floating water lilies, their delicate petals creating a mesmerizing reflection on the pond. Gaze at the Ru, the small brook, a smaller diversion of a tributary of the Seine River that runs under the bridge.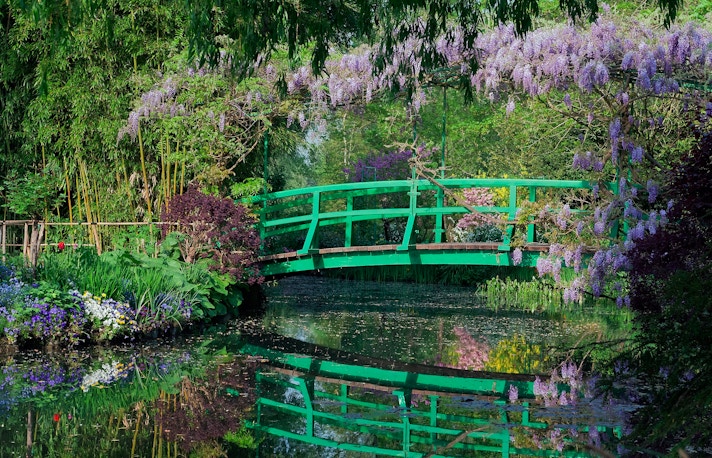 Cross the Japanese Bridge
Originally built by a local, the bridge had to be restored before the opening of the gardens. Don't forget to cross the iconic Japanese Bridge, a symbol of Monet's fascination with Eastern art. Pause, breathe in the fresh air, and savor the enchanting views. If you're there early in the morning, make sure to catch the mist below the bridge.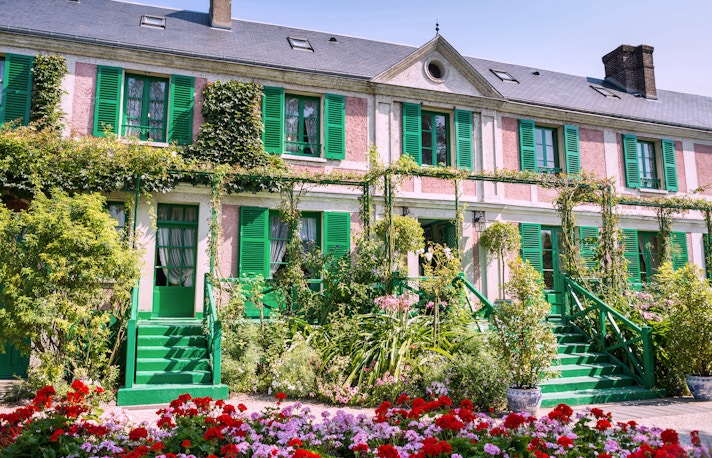 Visit Claude Monet's House
Step into the world of the founder of impressionist paintings by exploring his beloved house. Wander through the rooms that once witnessed his creativity and gain insights into his life and artistic process. Admire his collection of Japanese prints that adorned his walls that lend to the ambiance.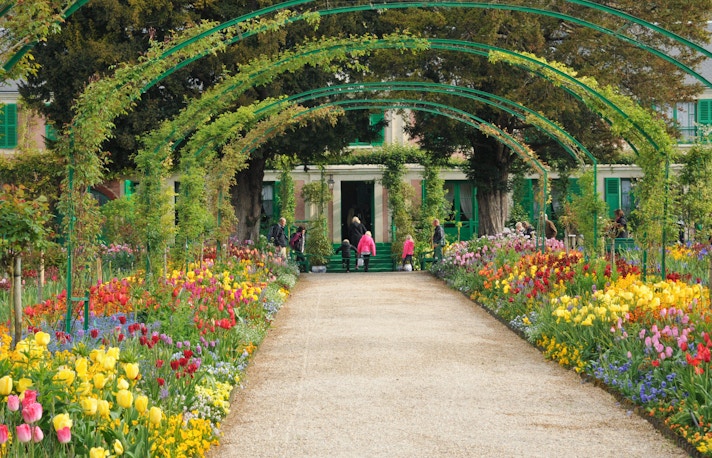 Learn about the Site with a Guided Tour
Monet particularly let the flowers grow freely, adding a spontaneous touch to the gardens. He also invested a lot of his money into these gardens. Learn little trinkets of information like these and dive deep into the history of Claude Monet at Giverny with a guided tour.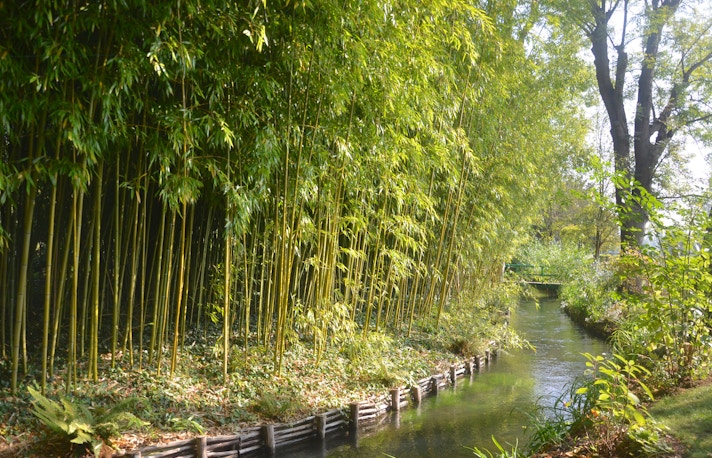 Capture Monet's Inspirations
Unleash your inner artist and capture the beauty that once inspired Claude Monet. Set up an easel or bring your camera to capture your own unique perspective of the gardens. Allow the sights, sounds, and colors to ignite your senses and create your own masterpiece.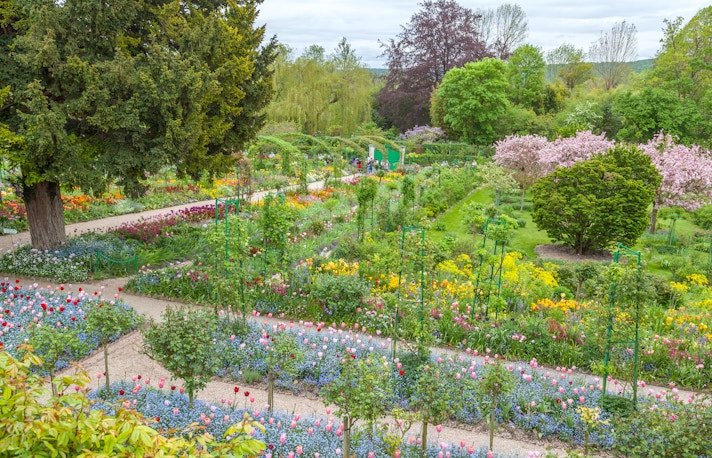 Visit the Flower Studio
Immerse yourself in the world of flower arranging at the Flower Studio. Participate in hands-on workshops led by skilled floral artists and learn the art of creating stunning floral compositions. Take home your own creation as a memento of your visit to Monet's Garden.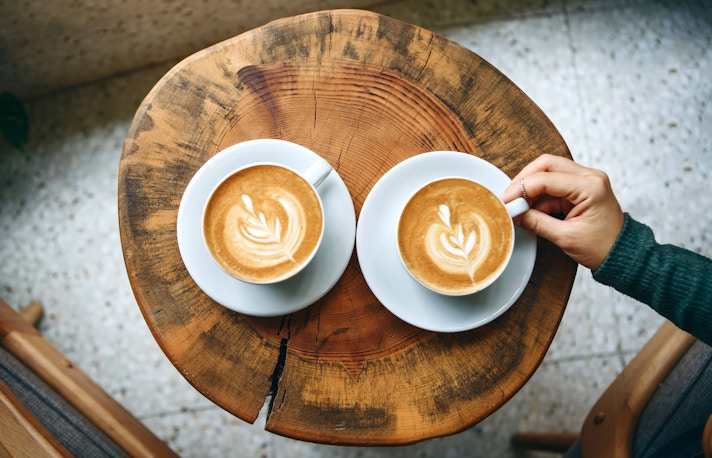 Relax at Les Nymphéas
Indulge in a moment of relaxation at Les Nymphéas, nestled around the beautiful surroundings of Monet's estate. Savor delectable French pastries, freshly brewed coffee, or a refreshing beverage as you bask in the serene atmosphere. Let the peaceful ambiance and scenic views enhance your overall experience.
History of Monet's Garden in Giverny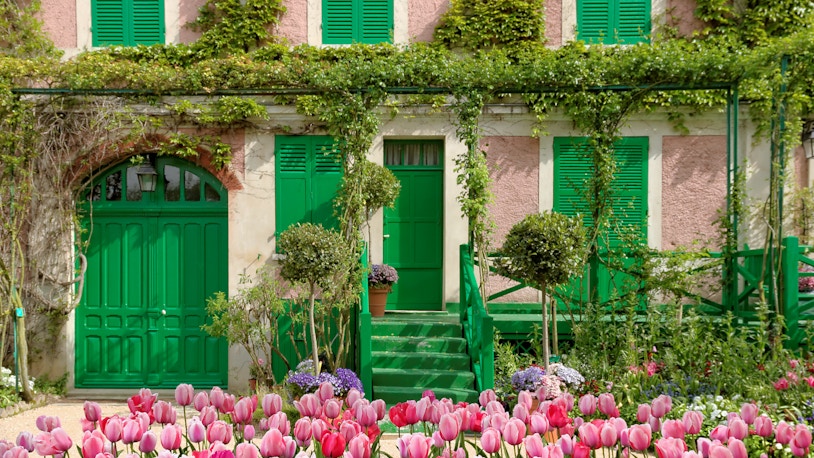 In 1883, Monet settled in Giverny, captivated by the picturesque landscapes and the nearby River Seine. Inspired by the nature surrounding him, Monet set out to create a living canvas that would become his ultimate muse.
Monet's artistic vision came to life in the form of two distinct gardens. The Clos Normand, a vibrant masterpiece of flowerbeds and pathways, was meticulously designed by Monet himself. 
In the early 1890s, Monet expanded his artistic playground, transforming a nearby marshy area into the iconic Water Garden. This enchanting oasis featured a serene pond adorned with water lilies and punctuated by the iconic Japanese Bridge, a nod to Monet's fascination with Oriental aesthetics. This later served as the subject of his famous "Water Lilies" series, capturing the play of light and reflections on the water's surface.
During World War II, the gardens suffered from the absence of maintenance and care, as the war disrupted daily life in the region. However, after the war, efforts were made to restore the gardens to their former glory.
Restoration of Monet's Garden in Giverny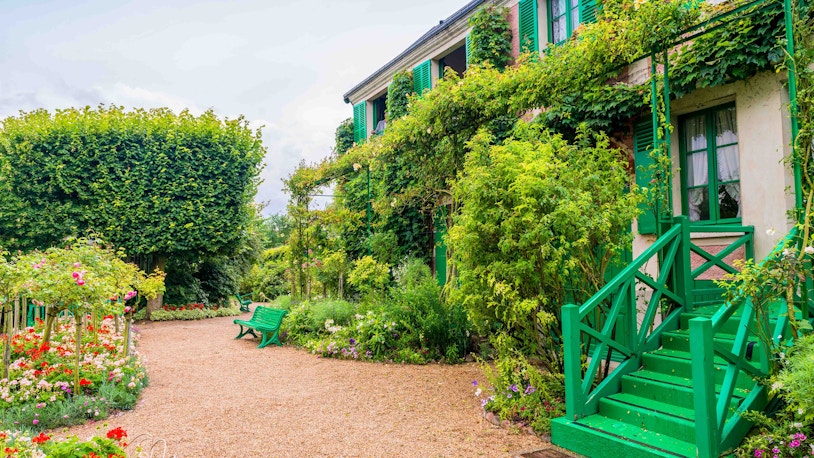 After Claude Monet's death, his son Michel inherited Giverny but it was his step-daughter Blanche who cared for the property. In 1977, curator Gérald van der Kemp and gardener André Devillers began restoring the garden. The pond was rebuilt, the Clos Normand adjusted, and Monet's discovered flower species replanted. Donations aided in the restoration of the house, furniture, and prints. Opened in 1980, Monet's Gardens in Giverny became a beloved attraction, showcasing the magnificent legacy of the artist and offering visitors a chance to immerse themselves in his world.
Frequently Asked Questions About Monet's Garden in Giverny
Q. Can I buy tickets in advance for Monet's Garden in Giverny?
A. Yes, it is recommended to purchase tickets online and in advance to secure your preferred entry time, especially during peak seasons. This allows you to have a seamless and hassle-free experience.
Q. How long should I spend at Monet's Garden in Giverny?
A. We recommend setting aside at least 2-3 hours to fully explore the gardens, enjoy the serene atmosphere, and visit Claude Monet's House.
Q. Is it worth visiting Monet's Garden in Giverny?
A. Absolutely! Monet's Garden is a true masterpiece of nature and art. The vibrant gardens, iconic water lilies, and the opportunity to step into Claude Monet's world make it a must-visit for art lovers and nature enthusiasts alike.
Q. What is the main purpose of Monet's Garden in Giverny?
A. Monet's Garden serves as a living tribute to the renowned artist Claude Monet, also known as the founder of impressionist paintings. It allows visitors to experience the inspiration behind his iconic works and immerse themselves in the beauty of nature that captivated him.
Q. Can I take photographs at Monet's Garden in Giverny?
A. Yes, photography is permitted in the garden areas. However, using tripods or commercial photography without prior permission is strictly prohibited.
Q. Are there guided tours available at Monet's Garden in Giverny?
A. Yes, guided tours are available for an in-depth dive into Claude Monet and his garden. It's recommended that you book your guided tours online for a hassle-free experience.
Q. Can I buy souvenirs at Monet's Garden in Giverny?
A. Yes. There is a gift shop offering a wide range of Monet-inspired merchandise, including prints, books, postcards, and unique mementos. It's the perfect way to bring a piece of Monet's legacy home.
Q. Is Monet's Garden accessible for people with disabilities?
A. While some parts of the garden may be challenging for wheelchair users, there are accessible pathways and ramps available. Monet's House has limited accessibility due to its historical nature, but a virtual tour is available for those unable to access the upper floors.
Q. Are pets allowed at Monet's Garden in Giverny?
A. Unfortunately, pets are not allowed in the garden or Claude Monet's House, except for assistance animals.
Q. Are there any dining options available near Monet's Garden in Giverny?
A. Yes, there is a charming restaurant called Les Nympheas Restaurant located near the gardens where you can enjoy a delightful meal or a refreshing beverage.